The striking three‑dimensional 42‑storey tower is situated in Coal Harbour, Downtown Vancouver's most exclusive and desirable enclave. An inspired alternative to typical urban towers, Fifteen Fifteen introduces horizontality to high‑rise living and fulfills Ole Scheeren's ambition to reconnect architecture with the natural and urban environment. "I wanted to break apart the verticality of the tower, to project and fold elements out horizontally, and to make a clear connection between the natural environment and one's personal space," explains Scheeren.
Three‑Dimensional Living
Fifteen Fifteen has been designed to dissolve the friction between the forced choices one might have to choose between dualities such as mountain or sea, city or countryside, public amenity or secluded privacy. The connectivity to nature and the city both physically and socially is an important tenet of Scheeren's vision.
Residences
Ole Scheeren approached the interiors of the residences with the same intelligence and rigour that define the architecture and engineering of this singular building. With close to 70 completely unique floorplans, the architect considered every element of the living experience, meticulously crafting the experience to maximize space and light while maintaining privacy and security.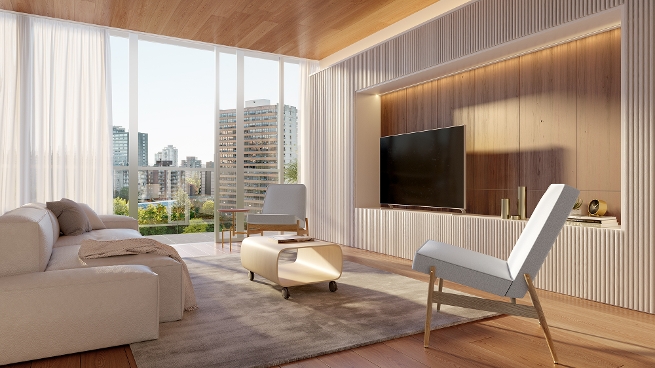 Studio, One, Two and Three Bedroom Residences
The Studio, One, Two and Three Bedroom Residences combine the flexibility of open‑plan living with privacy and seclusion. All of the residences, ranging from studio to three‑bedrooms feature walls of floor‑to‑ceiling glass and sliding glass doors opening onto private balconies.
Observatory Residences
The eighteen Observatory Residences on Fifteen Fifteen's mid and upper levels are truly once‑in‑a‑lifetime architectural experiences. Each residence boasts a dramatically cantilevered space, offering urban and natural vistas from multiple directions: horizontal living at its best.
Penthouse Residences
Four exclusive Penthouse Residences offer Fifteen Fifteen's most privileged position on the tower's 39th through 42nd floors. These triplex residences were created to maximize the number of balconies and large terraces for each.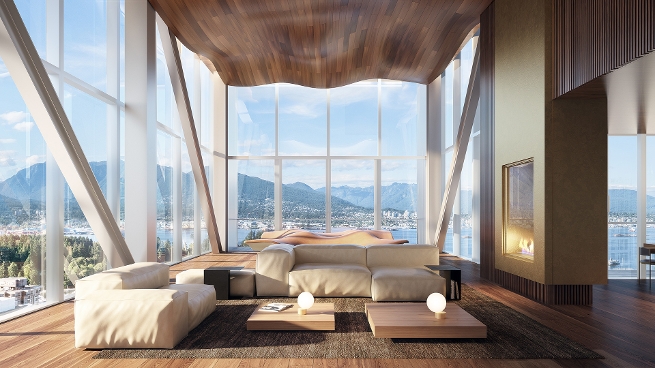 Amenities
The ground floor of Fifteen Fifteen offers a lively spot from which to gaze out on the comings and goings of Coal Harbour. The landscaped plaza and water feature is an animated public space that encourages interaction and immersion with nature in the heart of Downtown Vancouver. GROUND LEVEL COURTYARD A feeling of effortless ease where details feel intentional and personalized to your every want was a key philosophy behind Fifteen Fifteen. Every space has been considered to exceed expectations, and to deliver a sense of flow. Velvet glove service was inspired by the finest hotels and resorts around the world spanning from the amenities, services—and brought into the functionality of each of the residences. Amenities offered to all Residents include a fitness studio, bike elevator and bike valet, as well as a Sky Lounge on the 29th floor offering 270‑degree views. The thoughtful touches behind details like a fully integrated home automation system, a 24‑hour concierge, and a full‑time valet and auto porter are all integrated into this vision. The discretion and trust of residents is a critical priority to deliver the luxury of time and space, and total peace of mind.
Register below for exclusive access to fifteen fifteen's brochure, and a first look at design & floor plan features
This is not an offering for sale. Any such offering can only be made by way of disclosure statement. E&OE.
Renderings are representational only. E.& O.E.